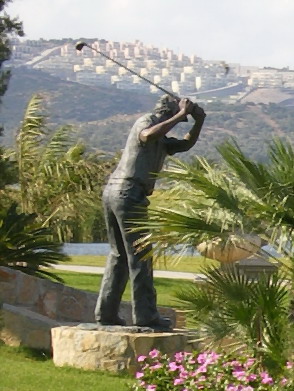 Vita Park Golf Resort
The Vita Park Golf Resort is a unique two 18-hole golf facility. Located only a short 10 minute drive from the accommodation at Lakeside Garden
The Milas par-7l, 5,850 meters course, which opened in July 2008, offers the charm and challenge of an Old World course with a feel that is reminiscent of traditional Scottish links. The Milas course is born out of a deep love and respect for the game, a shared passion for excellence and a desire to play under the finest possible conditions.
The Halikarnas par-71, 6,480 meters course, due to open in 2011, with its own private driving range, its lush native landscaping and flowing creeks and waterfalls tantalize golfers' senses, while designed with a dramatic Arizona golf course look because of its topographic features. Classic-style bunkering with bold flashes of native white sand will complement the occasional stacked sod wall edges.
The Halikarnas course is expected to be a "players club" with a very challenging layout from the tournament tees- a world- class championship golf course suitable for prestigious national and international events. The finishing 18th—hole, 425 meters, surrounded by a natural amphitheatre with its protected pine trees, dramatic waterfalls, and elevated 32 meters green from the back tee crowns the Halikarnas championship golf course.
To complete the experience, 6 hectares have been dedicated to a Golf Academy, which features unrivalled practice and training conditions, facilities, and services, a wide double-ended practice range, including numerous target greens and bunkers and several short game areas and putting greens. Many shots found on the golf course can be practiced here at the Golf Academy, which also features state-of-the-art instructional technology and V1 video equipment for total swing analysis and game improvement. This system allows members to monitor their progress from week to week.
The current price list for the Vita Park Golf Resort is as follows:
High Season
Low Season
18 Holes ¥
75€
58€

18 Holes only 59€/45€ on Mondays

9 Holes ¥
40€
30€
18 Holes Buggy
30€
9 Holes Buggy
20€
Trolley
5€
Rental Clubs
20€
Range Token (39 balls)
3€
Range Fee (Including 2 tokens)
10€
Academy
30 Minute Golf Coaching
25€
60 Minute Golf Coaching
50€
60 Minute Golf Coaching for couples
100€
60 Minute Golf Coaching fro 1 adult and 1 child
100€
5x30 Minute Golf Coaching for children under the age of 18
70€
Package of 5x30 Minute Golf Coaching
110€
Package of 5x60 Minute Golf Coaching
220€
Package of 10x30 Minute Golf Coaching
200€
9 holes with Pro, course management (max 2h 30m)
120€
18 holes played with the Pro to obtain the Golf Federations licence
200€
¥ Reduced prices apply in Low Season (16th October to 31st March)
* Golf Schools include 4 hours of coaching per day, 1 green fee for each day, and soft drinks.
All prices are subject to change, for further information please contact:
Vita Park Spor, Turizm Hizm ve Inşaat A.Ş.
Boğaziçi Köyű
Tuzla Ovasi Mevkii No. 23
48200 Milas / MUĞLA
Turkey

Tel: +90 252 524 53 33
+90 252 524 52 14
Fax: +90 252 524 53 32

E-mail: vitapark@vitaparkgolfresort.com
Web: http://www.vitaparkgolfresort.com
The Bodrum Golf Club, which is a 5 hectare club with facilities including a 200m long driving range, practice putting area, pitching - chipping areas, bunkers and a 5-hole course. The first hole is PAR 4 and all the others are PAR 3. Also on-site are a restaurant, bar, cafe, and day spa with jacuzzi facilities. For further information please contact:
Bodrum Golf Club
Kemer Mevki
Ortakent, Bodrum
48400 Milas / MUĞLA
Turkey

Tel : +90 252 313 GOLF
+90 252 358 72 80
Fax : +90 252 358 72 90

E-mail: play@golfclubbodrum.com
Web: http://www.golfclubbodrum.com
|
|
|
|
|